Community Outreach: Mattress Direct & Friends of Kids with Cancer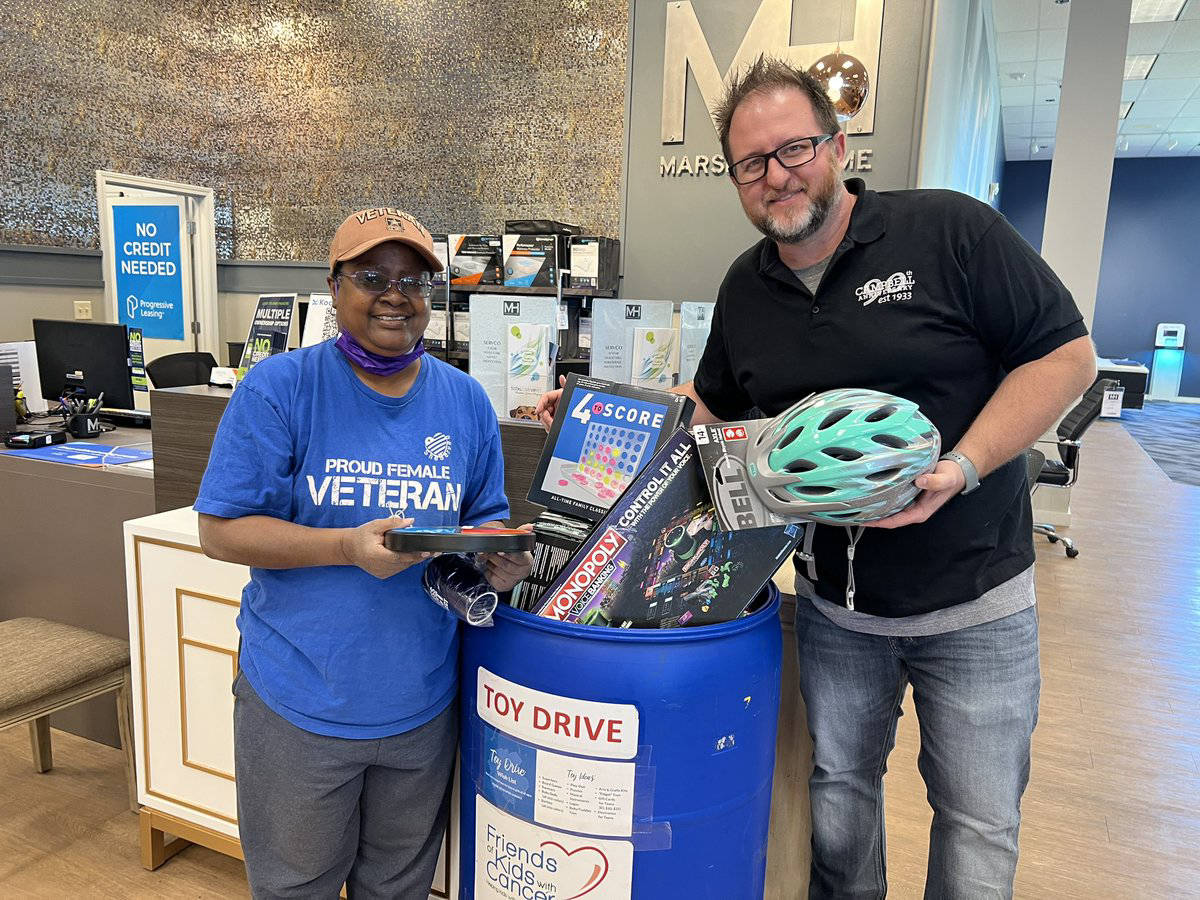 Pat McCurren, Sleep Expert at Mattress Direct, shared "we've seen such great results" by witnessing individuals across St. Louis City and County, St. Charles City and County and even across the river in Illinois bring arm loads of toys to their nearest showroom to donate. Some of these were individuals who learned about it from KMOV on TV or on Facebook Live while others were shoppers in for mattresses and saw what the company was doing and wanted to be a part of it.  
The decision to partner with Friends of Kids with Cancer was personal for Pat and he shared: 
"In my world, y'know, I lost one of my first cousins at 11, and he was signing up for youth football, started a practice in August, they noticed some bruises, they visited the doctor and then he's gone in October. And so, there really wasn't even enough time for an organization like Friends of Kids with Cancer to be able to help him. ButI think about that and even at the time, y'know, when you lose a grandparent or somebody who has lived most of their life – and it's sad – but when you lose a child – it is the worst. And so, when we think about the Friends of Kids with Cancer being there not just for the kids who are going through the scariest thing they've ever gone through, but also the families and the parents and everyone around them, siblings – there's programs for, 'cause it doesn't just affect the patient; it affects the entire family. Not just the ones in the house, but the entire family." 
This experience in his life has left a lasting impactand to partner with a local non-profit organization specifically for families and children is just one way to honor his cousin and bring joy to the kids in the community who are "going through the scariest thing they've ever gone through." 
Friends of Kids with Cancer began 30 years ago with three amazing women. A Mercy Clinic Children's Cancer and Hematology Center Developmental Specialist named Jill Turec, and two parents, Molly Henry and Susie Snowden, who saw the need in the daily lives of patients and their families. They launched The Big Shelf in 1992 in Dr. Bob Bergamini's office and today it has transformed into the Toy Closet. It is this closet in which the donations are brought.   
Karen Korn, a patient mom and the Vice President on the Executive Boardat Friends of Kids with Cancer, stated "Once the toys are donated, we collect them in our offices, and we distribute them to all of the childhood cancer centers in the area. And they go into a closet, or a shelf and all of the kids get to choose a toy once they're done with treatment". 
Karen shared further from her experience that these donations serve as a relief to caregivers who may feel that they must make something up for what the children aregoing through while also taking the focus off why the kids are there and give them something to look forward to after treatment.  
Because cancer treatments can be a lengthy process requiring multiple visits, the Friends of Kids with Cancer Toy Closet offers a way to divert the attention on each visit and can even be available for a sibling who is having a rough day with what their brother or sister is experiencing.  
In addition to the Toy Closet, the non-profit organization seeks to provideprograms that offer educational, emotional and recreational resources designed to build self-esteem and provide joy and laughter to the entire family. These programs offer the development of a positive mental outlook during such a monumental crisis in a family. Out of the organization friendships among the families are often formed for parents, siblings and the patients. These serve as fostering their own community and support network within the Greater St. Louis Region. 
Recreational Programs focus on keeping fun and playa part of childhood – something that is often stolen during the cancer treatment process. It also strives to fulfill wishes via patient & family parties, special events & ticket outings, in-clinic support & events, bone marrow transplant support and individualized gifts for patients are just some of the ways in which these families can feel a little more normal and sometimes that needed event to feel special. 
Emotional Programs play a key role for a variety of therapeutic assistance such as expressive therapies, individual counseling and support groups. These opportunities are offered to children in treatment, survivors, siblings and families during the cancer journey to manage and cope with this difficult time in their lives. Because a cancer diagnosis is already an emotionalexperience for an adult, the emotional turmoil that is thrust upon the entire family when a child receives such a diagnosis requires time to work through for everyone involved. 
Educational Programs focus on helping children transition back to the classroom and be set up for academic success. It includes tutoring, educational testing support, and scholarships. The educational programs help to fill the gap in learning due to treatments and maintain the positive outlook on survival. This is crucial as more children are surviving pediatric cancer diagnoses and thus serves the need for kids to prepare for their future – something at the beginning of a cancer diagnosis thatoften time appears bleak.  
"We're making sure we are a part of the community that we live in, and we work in and we're giving back to the people who live in those [same] communities[because] that is just a part of Mattress Direct all over" statedLux St. Lou, Comfort Consultant.  
So, on July 20th, 2023, Pat McCurren, Lux. St. Lou and the Mattress Direct delivery crew brought all the toys that the Great St. Louis community donated between April 1st and July 8th. 
Even though the Friends of Kids with Cancer toy drive with Mattress Direct has ended, you can still make monetary donations online,participate in upcoming events and fundraisers, or choose to partner with Friends of Kids with Cancer in your organization.  
Let us know about your favorite community organizations and causes! 
And don't forget, if you aren't sleeping well, come see a Sleep Specialist at yournearest Mattress Direct. Together we can fight sleep deprivation and impact our communities in a positive way.